INSTALLATION
Scroll down to see multiple projects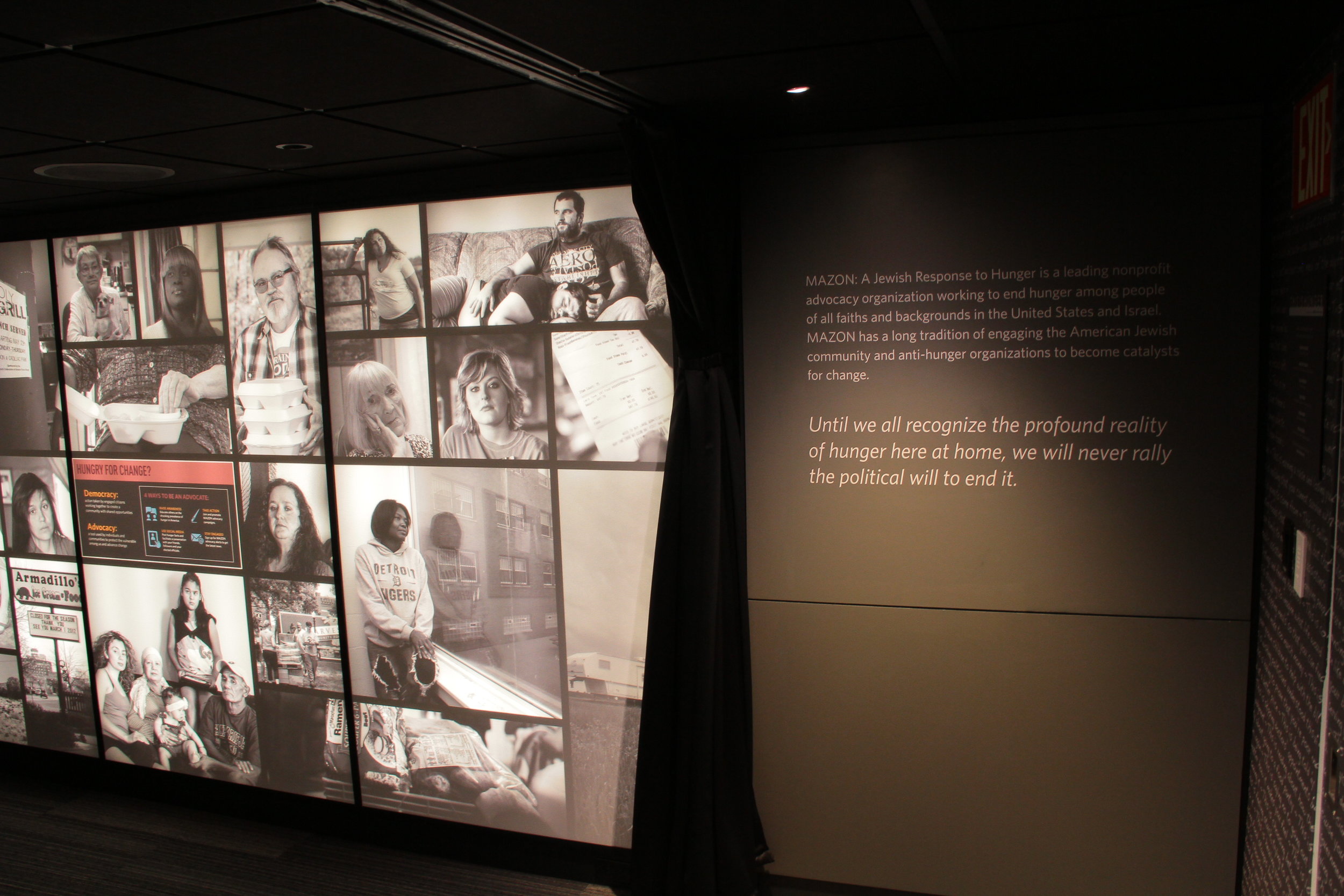 Traveling immersive installation featuring American voices of hunger.
This Is Hunger is a multi-media installation housed in an expanding trailer that opens on site for 1,000 square feet of interior space. Visitors in groups of 30 enter the trailer for a two-part multi-media show directed by C. Green using 5-channel video, surround audio, and lightboxes. This Is Hunger was completed in 2016 and is currently on the road.
Part One: Illuminate—Upon entering the trailer, visitors see a long communal table with place settings made of circular projected light. Once visitors are seated (up to 30), a 15 minute multi-media presentation begins. Using 5-channel video projection and surround audio, the media presentation introduces visitors to a diverse cross-section of people dealing with food insecurity from across the country. These folks share their stories in their own words, unmitigated by a narrator or talking head experts, but supported by current statistics. The side walls that were white upon entry now transform, one portrait at a time, to reveal dozens more subjects and a chorus of voices.
Part Two: Advocate—At the conclusion of Part One: Illuminate, visitors are invited to stay at the table and read more in depth treatments of the stories they just heard, play engaging games to test their skills at managing a meager budget in today's America, leave the table to read the walls, sign petitions, or take a playful selfie in front of the Capitol building with messages of advocacy. The goal, as expressed by MAZON, is to:
"Deepen their awareness about the complexities of being hungry and invite them to join MAZON in educating the rest of our nation and advocating for change."
To learn more about the tour, please visit the MAZON website here.
Commissioned by: MAZON A Jewish Response to Hunger, led by Michelle Stuffman, Dir. of Outreach and Communications
Photographs by: Barbara Grover
Multi-Media Development / Art Direction by Chris Green features original compositions from two-time Emmy-Award sound designer Tom Paul.
Interactive environment for a new kind of family adventure
Pip's Island a new immersive theatrical adventure for families launched in NYC in November 2016. Chris Green Kinetics was commissioned to design and produce the puppets and interactive scenic components like the Tree Portal seen here (video link above). Pip's Island is a trans-media story-telling project that sets a new precedent for combining play, empowerment, and strategic curricula primarily for children aged 4 - 10, but there's something here for everyone aged 2 to 102.
"Dazzling..." - New York Times
For more info, visit the Pip's Island Website.
Interactive sculpture for the United Nations
Tree of Promises was commissioned by the United Nations Global Compact Office as an interactive artwork for the UNGC Leader's Summit held in New York 2010. This UN Global Compact Leader's Summit was the largest of its kind, bringing over 1,500 CEOs and business leaders together from around the world to share best practices and re-commit to the UNGC's 10 principles for international sustainable business. For the Tree, attendees were invited to write down personal and (more importantly) obtainable promises onto slips of paper which they then attached inside an origami flower. Each flower was strung through the tree via a system of chords so that, once the promises were attached, the flowers and promises could pulled up into the tree where they became part of the sculpture, slowly bringing the tree into full blossom over the course of two days.
Media: Copper, steel, Nepalese lokta paper, Dakota Burl panels, aluminum, spectra cord. Completed: 2010
A mechanical Bird of Paradise for National Geographic Museum
The interactive sculpture 'Victoria's Riflebird' is the featured artwork for National Geographic's exhibit 'Birds of Paradise: Amazing Avian Evolution'. This touring exhibit explores the radiant complexity of 39 different species of Birds of Paradise based on the research of Edwin Scholes and photographer Tim Laman. Highlighting 8 years of research, this exhibit features new discoveries and groundbreaking footage of these astounding birds.
Tour of the U.S. included Dennos Musuem Traverse City MI, North Carolina Museum of Natural Sciences, and the Academy of Natural Sciences in Philadelphia.
Location: National Geographic Museum, Washington D.C.
Medium: Steel, carbon fiber, coroplast, urethane, celluloid, mechanics. Completed: 2012
Noah's Ark at the Skirball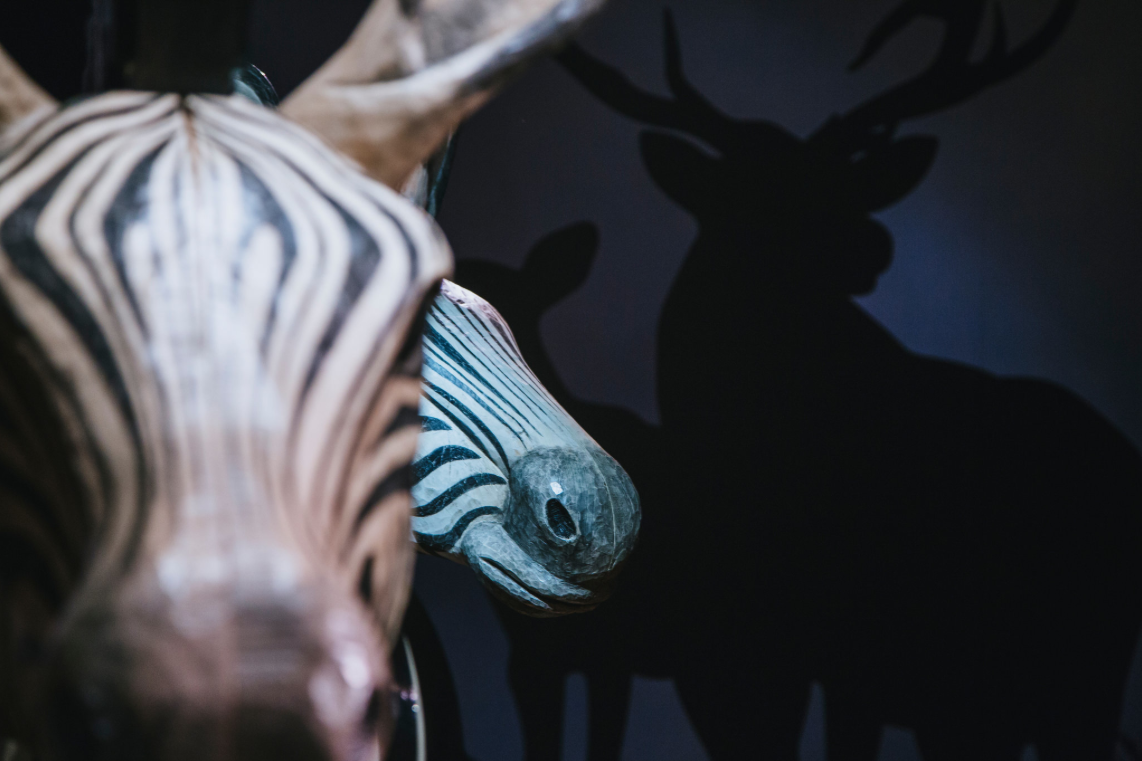 "Extraordinary … A celebration of play, inspiring fascination, reviving wonder."
—New York Times
Permanent installation featuring 46 interactive sculptures and puppets of endangered animals
The vision for "Noah's Ark at the Skirball" was to present the universal flood story, one that is known in over 200 cultures, as a message of interdependence, each of us becoming the hero Noah as we walk through the six rooms or "scenes" of the flood story. From storms and migration, to ark building, to the journey, to dry land, each of us are called to task as caregivers to all life on Earth. Since opening to the public in 2007 at the Skirball Cultural Center in Los Angeles, "Noah's Ark at the Skirball" has earned awards of excellence from the Themed Entertainment Association (TEA) and the American Association of Museums as well as a Regional Design Award from AIA.
At the core of this exhibit are 46 kinetic life-sized animal sculptures and puppets designed and fabricated by Chris Green Kinetics featuring the work of Eric Novak (hand-carved wooden heads) and Erin Wilson (fabric skins). Each component has an interactive kinetic element, from a simple bell that children can ring, to an animal moving its head, to totally articulated puppets operated by gallery staff puppeteers. In an effort to promote 'green' exhibit design, other selective materials were chosen apart from repurposed or recycled elements such as Lokta paper from Nepal (traditionally harvested to be sustainable), low VOC or non-toxic treatments for touchable components, and all basswood is certified by the Forestry Stewardship Council. Out of a total of 29 animal species chosen for this scope, 20 are endangered or conservation dependent, a fact which promotes a rich educational experience for visitors of all ages. Additionally, there are over 15 fully kinetic, life-like (non-speaking), animal puppets performed by trained puppeteers and dancers who interact improvisationally with visitors at random moments. Completed: 2007
Interactive shadow sculpture
Umbrella>Horse was commissioned by the Peabody Essex Museum in Salem, Mass for their exhibit 'Trash Menagerie'. Using the 'natural' kinetic potential of discarded umbrellas, the result is a hand-cranked projector. The kinetic horse shadow-puppet is made entirely from the metal tines from cheap throw-away compact umbrellas collected from the streets of New York City after a heavy rain.
Media: perforated steel, mechanics, sensors, umbrella tines, umbrella fabric. Completed: 2009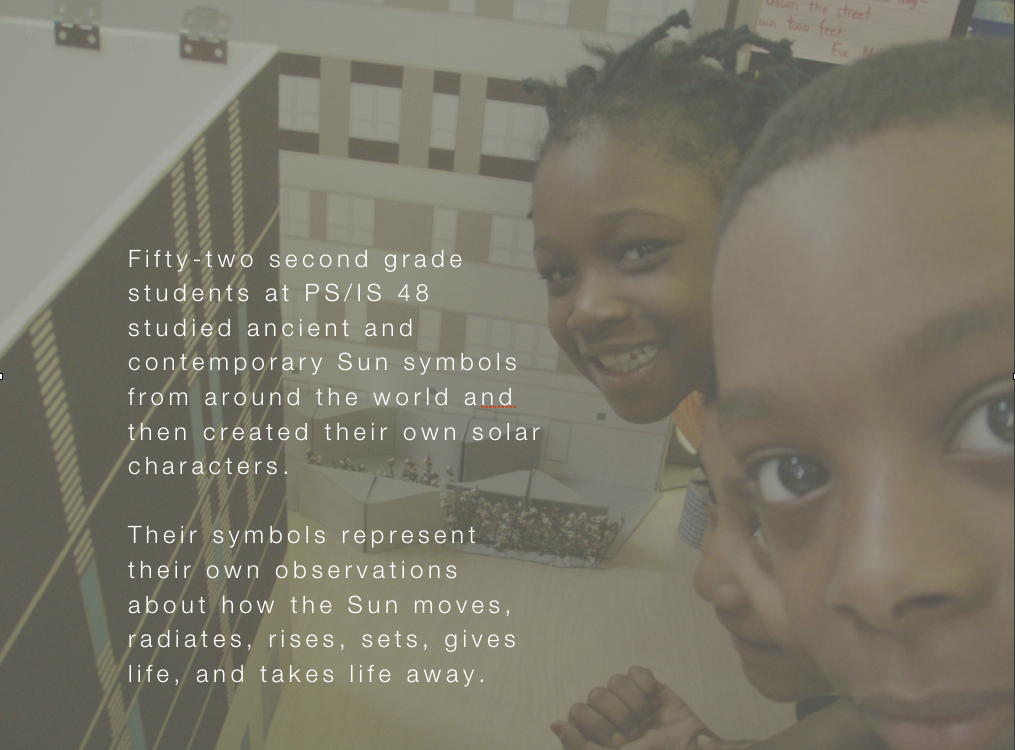 Sunlight-based public artwork
HeArt of the Sun is a permanent outdoor public art installation commissioned by the NYC School Construction Authority for PS/IS 48 Q's new school building in Jamaica, Queens. The artwork marks various points on the annual calendar by reflecting sunlight from roof-mounted mirrors onto a series of curved glass-fiber reinforced concrete walls. Etched into the concrete surfaces of the curved walls are 52 student generated designs of interpretive and personified symbols for the sun - a petroglyphic style dating back to the Neolithic. The roof-mounted mirrors reflect sunlight onto these engravings at various points in the day and year when the courtyard is darkest. Designs and sun symbols were generated in collaboration with 2nd grade students at the school over the course of a nineteen-week residency.
This site-specific installation provides teachers as PS/IS 48 a resource for educational programs in astronomy, art history, geometry, social sciences, and ecology. Completed: 2011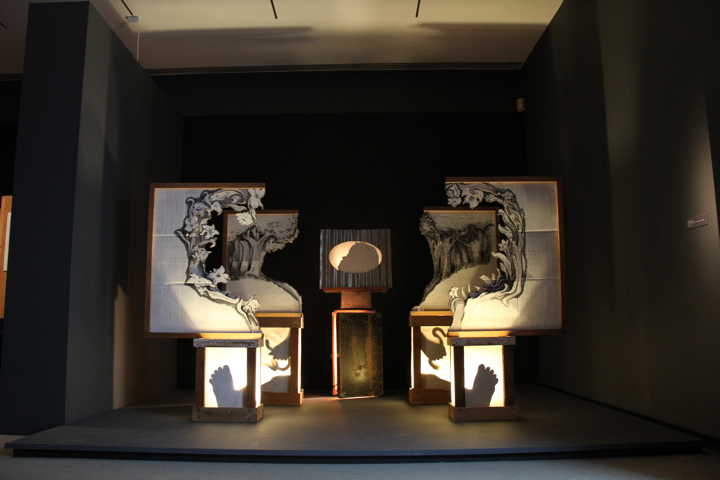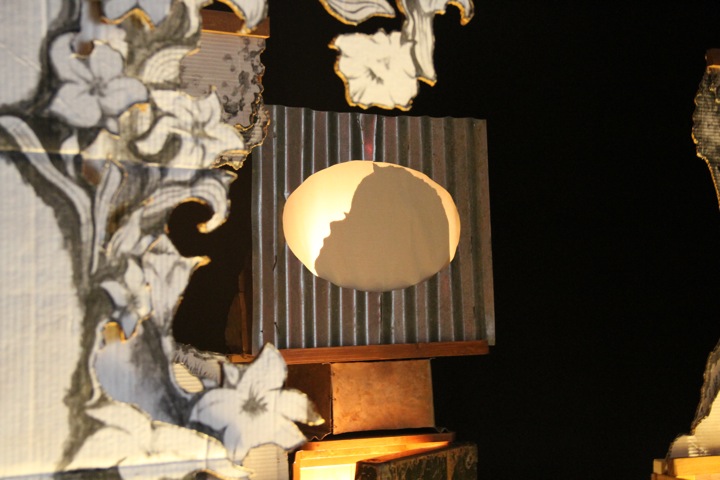 Toy theatre on the human scale
The components for Strange Warmth were originally designed for the puppet play The Apotheosis of Charles Willson Peale, which premiered at the Philadelphia Museum of Art in 1998 and used dance and live cello to evoke a shattered picture of Peale's Museum - America's first museum of Art and Natural History (Philadelphia, 1786). Several months later, with re-purposed sets from Apotheosis, Strange Warmth was created and performed in a wooden lodge on the campus of Black Mountain College, North Carolina for the first and last time on a summer evening in 1998. The performance, accompanied on violin by Chip Epstein and the sound of crickets, ended with the scene of a small boy (made by the convergence of five shifting set pieces) holding poisonous snakes in a tableau announcing the end of innocence. The set and all related materials were then put into storage, discarded, or lost until recently reconstructed for the exhibit "The Art of Contemporary Puppet Theater" at the Katonah Museum of Art, Katonah, NY, as seen above.
Interactive sculpture for South Dakota's first children's museum
Commissioned by: The Children's Museum of South Dakota (the state's first children's museum), Brookings, SD.
Completed: 2010
Media: Steel, FSC and salvaged wood, butter churn, milk can, antique sewing treadle base, mechanics
Credits: Hand-carved head by Eric Novak, Fabric udder by Erin Wilson
Interactives: Pump-jack tail; mechanical udder/sewing treadle fly-wheel (milking her teets oscillates the sewing treadle which turns a fly-wheel); peep hole and light sensor w/ barn in diorama night scene, butter churn with four rotating farm scenes; bed-spring and 'cud beads.'